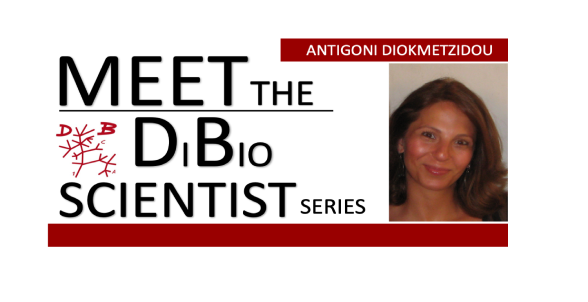 DiBio Scientist
MEET THE DIBIO SCIENTIST SERIES : ANTIGONI DIOKMETZIDOU
Pubblicato il: 16.03.2021 15:14
Antigoni is a post-doctoral fellow
Website: https://www.vimm.it/scientific-board/luca-scorrano/
---
Can you summarize in few words your research?
My research in UniPD focuses on the role of mitochondria- endoplasmic reticulum (ER) contacts in the metabolic flexibility of breast cancer cells. Specifically, I aim to better understand if and how mitochondrial morphology and ER tethering is affected by different energy sources; and in turn, the impact this has on the metabolism of breast cancer cells.
What is the most rewarding and the most challenging part of your work?
I can think of many aspects of being a researcher that are both challenging and the most rewarding at the same time, such as meeting and working with diverse people from around the world, traveling and communicating your work, constantly learning and mentoring etc (it is a long list!). Despite the long hours in the lab, the endless reading to be kept up-to-date and the continuous struggle of funding, when the "eureka" moment comes it outweighs all the difficulties. Discovering something novel and contributing to the pool of human knowledge makes me feel lucky to be a scientist.
Tell us your story: what brings you to DiBio?
My doctoral research in BRFAA, Athens exposed me to the fascinating world of mitochondria. DiBio of UniPD is an internationally recognized cradle of mitochondrial research with prominent experts in the field, with Prof. Scorrano's laboratory being the leading edge of mitochondrial dynamics and contacts. I cannot think of a more ideal place for a postdoctoral training.
What would you tell your younger self?
Work hard and party harder!
What's your favourite "toy" for research – and what can it do?
My favourite toy is my pipettes. They can make ideas come true from whatever I have imagined.
What are your interests outside science?
I love spending time with my family and friends, going to theater, exhibitions or savor a good wine with them. I enjoy doing yoga and in summer swimming in the crystal-clear waters of Greek islands. I really missed traveling and discovering new places the last year!
---
Ultimo aggiornamento: 16.04.2021 17:12