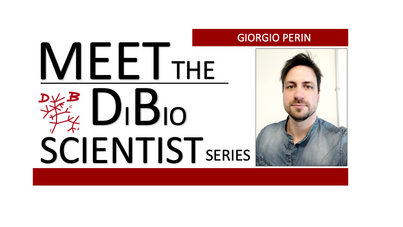 DiBio Scientist
MEET THE DIBIO SCIENTIST SERIES : GIORGIO PERIN
Pubblicato il: 19.01.2021 09:14
Giorgio is a Post-Doc Scholar of the Italian National Academy (Lincei)
---
Can you summarize in few words your research?
My objective is to use photosynthetic microorganisms (i.e. cyanobacteria and eukaryotic microalgae) as sunlight-powered bio-factories for the sustainable production of commodities. My research aims to optimize growth of photosynthetic microorganisms and has a twofold objective: i) identifying the molecular players controlling light, carbon and nutrient utilisation and ii) applying metabolic engineering strategies to increase use-efficiency of such metabolic inputs.
What is the most rewarding and the most challenging part of your work?
Understanding the complexity of biology at a whole-system level is challenging, as well as looking for funds to support further my research career. It is however worth pursuing every challenge to increase personal expertise. The most rewarding part is the chance to collaborate with other researchers to address the complexity of biology through complementary approaches and succeeding in student mentorship.
Tell us your story: what brings you to DiBio?
I completed M.Sc. studies in Industrial Biotechnology at UNIPD and then a PhD in Biochemistry and Biophysics at DiBio in 2016, focusing on microbial photosynthesis. I completed the work of my PhD with a short post-doc at DiBio. In 2017 I moved to Imperial College London to study homeostasis of nitrogen metabolism in nitrogen-fixing cyanobacteria. There I co-founded anentrepreneurship venture (BIO-F Solutions) to develop sustainable fertilizers. In 2020 I was awarded a scholarship by the Italian National Academy (Lincei) to investigate the functional relationships between photosynthetic efficiency and nitrogen assimilation. This appointment brought me back to DiBio.
What's your favourite "toy" for research – and what can it do?
CRISPR/Cas technology is definitely worth mentioning here. I am fascinated by the potential to edit several genes at a time. This tool is a lifesaver to generate both gain- and loss-of-function mutants, way more efficiently than standard molecular strategies.
What are your interests outside science?
I love reading, jogging, playing piano and hanging out with friends.
---
---
Ultimo aggiornamento: 14.02.2021 16:11