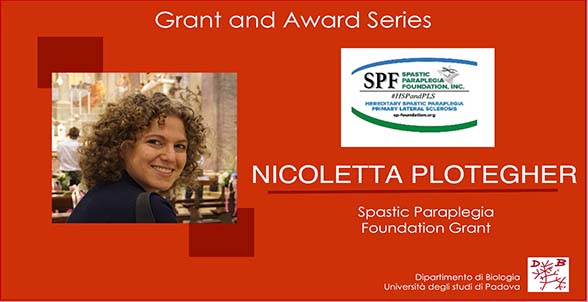 Homepage
GRANT and AWARDS SERIES (Spastic Paraplegia Foundation): Nicoletta Plotegher
Pubblicato il: 03.09.2021 15:49
Title: Unraveling the role of glucocerebrosidases and glucosyl-cholesterol in Hereditary Spastic Paraplegia
The lipid glucosyl-cholesterol has an elusive role in the physiology of neuronal function. The level of glucosyl-cholesterol is altered in many neurodegenerative diseases, including in certain types of Hereditary Spastic Paraplegias, a large group of inherited neurodegenerative disorders that affect motor neurons.
The main goal of the project is to understand if restoring glucosyl-cholesterol homeostasis is beneficial in neuronal models for the disease.
The outcome of the project will allow to understand more on the physio-pathological role of glucosyl-cholesterol in neurons.
PI's Biography
Nicoletta Plotegher was originally trained as physicist and then decided to move toward biosciences for her PhD and postdocs. Her research is focused on the study of the molecular mechanisms of neuronal function and dysfunction, with a special interest for neurodegenerative diseases. She is passionate about fancy microscopes and likes playing with numbers. Besides science, she loves reading book, cooking and travelling. And, of course, her lovely cats.
---
Ultimo aggiornamento: 03.09.2021 15:52