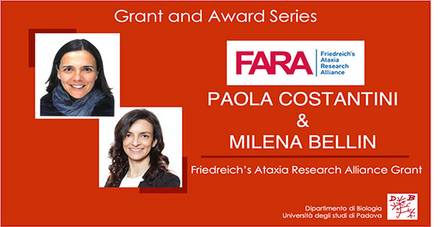 Homepage
GRANT and AWARD SERIES (Friedreich's Ataxia Research Alliance): Paola Costantini & Milena Bellin
Pubblicato il: 11.02.2021 12:31
Friedreich's Ataxia Research Alliance (FARA)
Three-dimensional mature cardiac microtissues from human induced pluripotent stem cells to explore mitochondrial dynamics, cardiac function and therapeutic options in Friedreich Ataxia
PI: Paola Costantini, Co-PI: Milena Bellin
Friedreich ataxia is an orphan disease due to the loss/mutation of the mitochondrial protein frataxin. Myocardial energy production in significantly impaired in patients and this reduction may even precede the development of tissue damage in the heart. We will use cutting-edge stem cell technology to build three-dimensional cardiac microtissues or "mini-hearts" to investigate several approaches to correct the mitochondrial and cardiac defects including 1) remodeling of the mitochondrial shape; 2) increasing the levels of frataxin; and 3) gene editing in the cardiac tissues. Our work will enable advancements in the development of novel therapeutic strategies for Friedreich ataxia.
PI & Co-PI Biography
PI Paola Costantini is Associate Professor of Biochemistry and Group Leader at the Dept. of Biology, University of Padova (Italy). Her research interests have always focused on mitochondrial pathophysiology and, more recently, on diseases linked to dysfunctions of FeS proteins biosynthesis, as Friedreich ataxia. She also actively collaborates with the Dept. of Chemical Sciences of the Padova University on the structural characterization of frataxin and its pathological variants, by means of advanced spectroscopic analyses.
Co-PI Milena Bellin Milena Bellin is Assistant Professor and Group Leader at the Dept. of Biology, and Veneto Institute of Molecular Medicine, University of Padova (Italy) and at the Dept. of Anatomy and Embryology, Leiden University Medical Center (The Netherlands). She has recently developed an innovative 3D cardiac microtissue model from hiPSCs and her research is focused in unravelling the molecular basis of inherited cardiac disorders. She has recently received an ERC Consolidator grant to further innovate this "mini-heart" model and exploit it to study and correct complex and multicellular cardiac disorders.
---
Ultimo aggiornamento: 11.02.2021 12:43